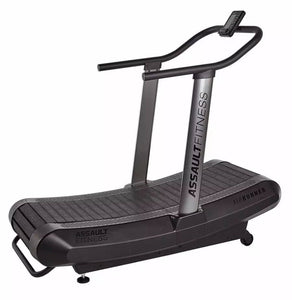 The Assault Air Runner completely redefines the manual treadmill. With superior steel construction, dependable stability, and a streamlined energy-efficient design. The variety of high-performance running machines are as lightweight (280 LBS) and portable (built-in transport wheels) as the Air Runner, and its compact footprint makes it adaptable to any type of training space. Which is timely for people who are planning on creating their own home-gym.
Since it is a motor-less treadmill, the Air Runner uses no electricity! Running on the energy produced by the user's own movement. Whether you're a beginner, an athlete or a competitor at the highest levels, the machine can instantly conform to your desired speed. Even if you change your output at will, minimizing accidental injuries. 
Assault's precision design includes not only a solid steel frame and handrails, but corrosion resistant hardware and a durable slatted running surface. The included Air Runner console provides you with an avenue to view and monitor your time, calories burned, distance, speed, watts, and pace, with a number of heart-rate and interval programs available. 
Specifications
Motor-Free Treadmill / Indoor Running Machine
Steel Frame & Handrails + Corrosion-resistant Hardware
Weight: 280LB / 127KG
Built-In Handle and Transport Wheels
Digital Console with HIIT and Heart Rate Programs
Can be integrated into Queenax™ functional circuit training
Uses no Electricity - low carbon foot print
For All Skill Levels
Color: Black