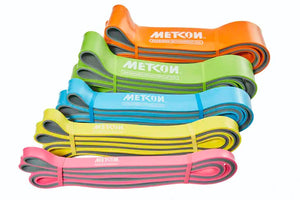 Resistance bands are currently all the rage through the ongoing pandemic. The versatility that the equipment has to offer caters to a variety of workouts that can be done in the comfort of your own home.
Specifications:
Available to order individually, in pairs, or as part of a full set.

Versatile, go-anywhere accessory for customized resistance training—from mobility work and pull-up assistance to banded squats and bench presses.

5 color-coded versions of the natural latex rubber stretch bands to choose from, but varying in width, thickness, and overall resistance.
Variety:
Grey - Tension range:5-50 Ibs - 13mm

Yellow - Tension range:10-60 Ibs - 20.6mm

Blue - Tension range:25-80 Ibs - 30.5mm

Green - Tension range:50-120 Ibs - 44.5mm

Orange - Tension range:60-150 Ibs - 63.5mm