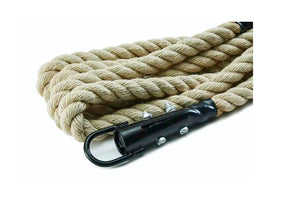 Conditioning your entire body, hitting all the important muscles has never been this easy with these Manila Ropes!
Conditioning Ropes are usually seen in videos of athletes training in the Mixed Martial Arts and Boxing spectrum. However, did you know that even a beginner such as yourself can benefit and gain from using these ropes?
There are hundreds of workouts that can be accessed through google for your convenience. Even videos that showcase how to start from Low Intensity Interval Training (LIIT) to High Intensity Interval Training (HIIT)
These ropes can even be used as a game which can be beneficial as a workout. Pair up with one of your Gym Buddies and try holding two ropes on opposite ends, wave the ropes with the same motion as the other and see who can last the longest. It's countless hours of fun, and will rip your muscles the way they need them to be.
Please be reminded that Conditioning Ropes have to be used on a smooth surface.
Specifications:
Diameter 3.8 with heat shrinkable pipe handle

Metal head included

6m